Your 3 Step Attraction Marketing Formula
Your whole marketing plan comes down to one simple formula: BA+EA+SA=FREEDOM
I'll explain this formula later on, but first let me talk about why you've got in this industry of network marketing in the first place.
It might be for financial reasons, job issues or whatever reason you have. The main point is that you are probably in this business to create a lifestyle by design.
Live on your own terms and conditions, enough money to do whatever you like to do and never have to look at price tags again. With other words: FREEDOM.
So, you've got introduced to a company, to work with, that could offer the solution for those struggling issues. Right? Great products, good services and an amazing compensation plan.
You join this company and now YOU are a Business Owner…
You are all fired up about it and start working like crazy to build that entrepreneurial lifestyle.
Then the surprise kicks in……. It's not that easy as they say it was. And you're thinking: "I don't make the kind of money they showed me on that presentation."
After a few months in this business, or even sooner, you start doubting if this is a good fit for you. You did everything they told you to do. Followed training, inviting friends and family, hotel meetings, home parties, spamming on social media and so on.
Finally you give up on your dreams about that entrepreneurial lifestyle and settle for the ordinary, again. Go to your 9-5 job, living from paycheck to paycheck, from weekend to weekend just to get your 3-week vacation with your family.
Sound familiar my dear friend?
Trust me I know exactly how you feel and that's what happens to about 95% of the people who joins this industry. You Are Not Alone.
Now I'm honest here to say that I'm not sitting on the beach behind my laptop making 7 figures a month. Counting my money in my brand-new Lamborghini. Just working 1 hour a day. (like you see so many people post on Facebook LOL)
That's the kind of BS you see a lot these days on Social Media. Showing off like that, usually means they are broke and struggling to get money.
It's not their fault to be honest, because they've probably been taught to do it that way and think this is what marketing is all about. That's why I'm so grateful that you are reading this post. Because if you can relate to anything I've written this far and still in this business but struggling, congratulations, you are about to find out WHY 95% fail.
Our profession (Yes, it's a profession) comes down to two things: Networking and Marketing.
That's why it's called Network Marketing. Pretty obvious, right?
What kinds off skills do you think you need to master to be successful?
Networking and Marketing for sure, but that is something most people joining this amazing industry have no clue about.
Am I the professional about Networking and Marketing? Not by far, but after 14 years of struggling in this business, losing money instead of earning, I've found that:
Networking isn't writing your list, chasing friends and family, talk to a few people who talk to a few people and BOOM you've got yourself a 6-figure business. (like many companies teach you)
Marketing isn't posting before and after pictures, spamming your opportunity and mlm company name all over place and leads keep pilling in wanting to join your business. (like many companies teach you)
If you are building your business like this, you've most likely don't have the results you want. Now don't worry, it's not your fault. They just taught you to do it this way and if it comforts you, I did it as well…
…Until.
I've learned the 3-step Marketing Formula to Attract people and brand myself.
The first thing I've noticed was, that its quite easy if you know how to do it and are willing to learn.
Since then my business changed radically for the good and the best part is, that people are chasing me now while still learning getting better and better every single day.
Now after you are reading 684 words, you're about to learn those same steps yourself and get people chasing you as well. Imagine that for a moment!
But first…
You were joining this industry to start a business. You are a Business Owner and from now on I want you to treat this as a serious business and start thinking like a Business Owner, not like its hobby. If you treat it like a hobby, you'll get paid like it's a hobby. And, as you know, most hobbies cost you money.
That being said. Let's dive in.
This is the formula BA+EA+SE=FREEDOM
BA – Building your Audience
EA – Engage with your Audience
SE – Sell to your Audience
Let's reverse engineer this to get you a clear vision.
In order to sell your products, you need to have a costumer's base. You can only sell the right products, services or even your opportunity to the right people. The only way to sell to the right people is getting to know them and therefore you need to engage with them and ask questions. It's obvious that there is just one way to ask people questions. And that is to build your audience, or differently said, your prospects.
Does this make any sense to you right now?
This is Network Marketing
Now that was a short version and I would like to explain it to you in more detail.
Building Your Audience. 
Before you even think about building an audience, you should know what type of audience you're looking for. Who are the ones you'd like to business with? Firehose your products, services or opportunity all over the place, just to get in front of everybody, is not a good marketing plan. You've might think, and that's probably what they have taught you, "if I can get my stuff in front of as many eyeballs as humanly possible, I will eventually make that sale". Right?
Doing this kind of marketing is more repelling people and considered as spamming to most of them. It might work if you have tons of money for advertising and are a darn good copywriter. But otherwise, stop doing that. You are really harming your business.
The question here is! Do you target the right audience where you can expose your opportunity?
It's a waste of time if you spent your money and time targeting the wrong people. There is no use to target dog lovers when you are offering amazing cat food. Does that make any sense to you?
"Defining a target audience is a business best practice…"
Now I can hear you think! How do I define a target audience Robert?
First, you have to decide if the products, services or opportunity you have are serving the people you'd like to attract. Does your stuff solve any problems that people might have?
Then create an avatar for yourself. This means how does your perfect prospect look like.
Gender, Age, Marital status, Kids, Job description, Hobbies, Etc. The more specific you are, the more targeted your leads will be.
Now in order to attract those leads to you, you must brand yourself as the authority. I know you love your company, but branding yourself is by far the best way to attract your audience. This industry is a people's business and people like to do business with people who they know, like and trust. The only way to do that is to become the authority figure in your niche.
So, stop advertising and leading with the company you work with, but leverage the products, services and opportunity they have and stick your own name to it. (Using Your Company name)
Engage With Your Audience.
Engaging with your audience is a smooth transition from building your audience. They actually walk hand in hand and are connected to each other.
To engage with your audience, you must provide value to them. Engagement isn't just talking about hobbies. You must provide value that is congruent with the problems they have and where you might have a solution for.
Remember: It's all about them, not you.
Engaging with your audience can manifest in different ways. Through e-mail, Social Media, Blogging, YouTube. You name it. If you are consistent with putting out value, your audience will grow and be more engaging in a certain period of time.
The way you engage determines if people think you are valuable enough to them, to know, like and trust you.
Even when you are marketing to your entire audience or customer base, you are still simply speaking to a single human at any given time.
Sell to Your Audience
We are all in this amazing industry to create income. We all want the freedom to work from home on our own schedule and have that promised lifestyle by design. Agree?
Now whatever reason you're in, you must sell something to someone to get your business running.
The money you want is in the pocket of your prospect. It's up to you to have them reach their pocket and voluntarily hand you over that money. Period. This is how business works, but many people hate to sell.
Look at it this way: Help instead of sell.
If your product, service or opportunity can help someone, it's your duty to do so. It isn't selling if it really helps someone. You should understand that if you're in this industry only to make the 10k a month, it's going to be a long ride. If you truly want to help people and your offer provides a solution to a certain issue, pain or struggle, it isn't really selling that you do.
Instead of pitching your products, services or opportunity all over the place, like many other business owners, get clear on your target market and then add value that serves that target market.
Now there is a huge difference between marketing and sales. You can read more about that here
FREE LIVE TRAINING THIS WED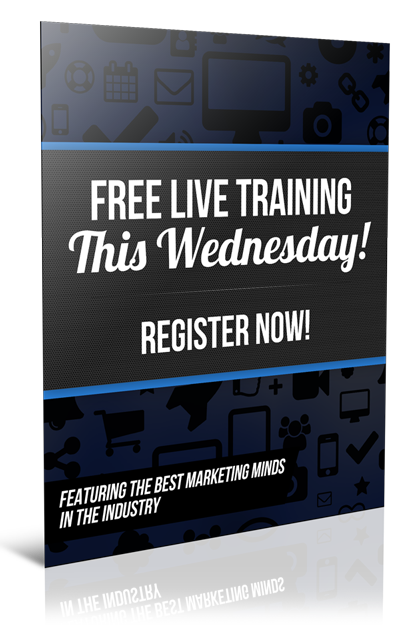 LIVE webinar with a 6-Figure Earner this Wednesday! Get strategies to help YOU get more leads & Profit in YOUR Business
Now I truly hope this formula makes any sense to you and really start thinking about the way you are marketing your products, services or opportunity at this moment.
Do you believe, if you implement this formula, your marketing will change and thereby your results?
You can count on it for sure, but it's going to take time, effort and persistence from your side to make that change happen in your business.
You need to have tools, systems and perhaps some education. Sometimes free, but some might ask a small investment from you. Time and money.
Again. It's a business not a hobby and you need to learn to think like a business owner. PERIOD
Businesses needs investments to grow and so does yours. Simply stop thinking that a course or tool is a cost and imagine how you could benefit from it instead.
That's all I have to say. Besides the fact that I sincerely want you to prosper and make it happen in this industry, I also want to ensure you that this profession is by far the best way to create that lifestyle you've always wanted. You are in the right spot and you should never give up on your dreams and quit because of the opinion of others. They won't pay your bills.
Keep up the good work, strive for your success and others, never quit and keep going despite all.
Need help? Reach out and I'll do the best I can to serve you and show you the path I've been taking to brand myself.
To your success,
Robert Laanstra
Email: Robert@robertlaanstra.com
If you want training about: prospecting, recruiting, teambuilding, YOUbranding, leadgeneration, socialmedia, mindset, attractionmarketing? Please contact me or visit one of my websites to find out more.

Twitter @mlm_robert  | facebookRobertLaanstra |wwwmlmknowledgecenter.com|MyLeadSystemPro
If you liked this post about "Your 3 Step Attraction Marketing Plan" I'd love it if you tweet, share and comment on social media
PS: If you believe your skills about marketing could use some improvement, learn all about it on this platform – Click Here to Check it Out!
PPS: If you have any questions about this topic, please feel free to ask me. I'll be more than happy to serve you and show you some directions askrobert@robertlaanstra.com
Comments
comments